Since relocating to multiple cities (San Diego, Albuquerque, and Chicago), NPR has continued it's presence and work with distributed radio experiments and workshops in each respective hometown Neighborhood. In San Diego and Los Angeles, NPR has hosted workshops and community broadcasts from a wide-range of locations including A Friend's Place Shelter in Los Angeles and at the sexuality boutique The Rubber Rose in San Diego. As part of a Golden Hill neighborhood action-event, NPR set up a live "State of Mind Station" for local community members to come broadcast (and archive) their states-of-mind as they considered the future of their slowly-gentrifying Southern California community. And at Lui Velazquez in Tijuana, NPR set up a two-year "radio checkpoint" where artists, activists, neighbors and friends could dialogue and broadcast their interviews, magic shows, and public-dialogues (notably at Proyecto Civico with Ricardo Dominguez and Felipe Zuniga).
As we continue to experimental with the forms radio-as-medium has to offer, we have expanded our practice since 2008 to include classroom mentoring at the University of California San Diego and the University of New Mexico where, respectively, graduate and undergraduate students have begun to realize radio-based projects, weekly broadcasts, experimental radio interventions, and electronics workshops. Building from our "American Life" radio-networking strategies begun at 2008 Whitney Biennial, each NPR "outpost" has hosted radio-transmitter workshops, public-sound disturbances, and alternative community programming. By working in Southern California, NPR is naturally engaged in the discourse of media-production that dominates the region's broadcast-landscape. Through a workshop-based approach, and through experimental community exercises, we've begun to look at the unique urban maps made by Southern Californians in their approach to media, radio, television, and the possibilities of peer-to-peer liberation.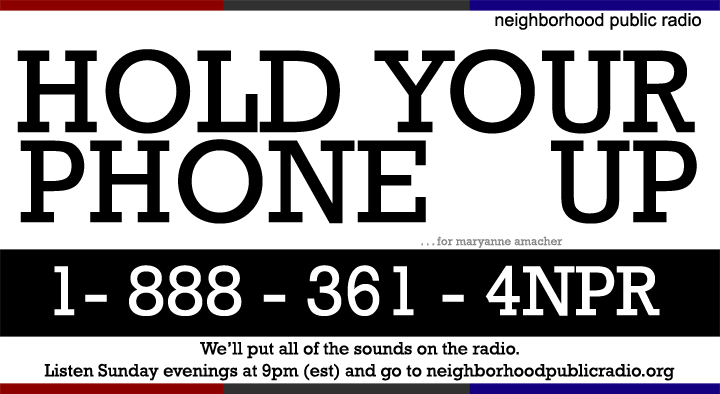 >>>Previously in San Diego (October 2008) :
BROADCASTING LOCALLY on 88.5FM from LUI VELAZQUEZ on Saturday, October 11th, 12pm - 4pm.
in collaboration with:
Proyecto Cívico: Diálogos e Interrogantes (website)
As part of this project, community members and youth will meet and discuss/dissect intersections of media and politics, with particular focus on the issue of media access. Michael Trigilio and Ricardo Dominguez are working with the Proyecto Cívico team at Lui Velazquez to facilitate these workshops.
>>>Previously in San Diego (March - June 2008):
In Spring 2008, the independent, guerilla radio project Neighborhood Public Radio will be hosting public broadcasts in San Diego and Tijuana.
As part of our inclusion in the 2008 Whitney Biennial in New York, these San Diego/Tijuana broadcasts will be aired live in local neighborhoods, and also streamed over the internet to the Whitney Museum of Art.
Working in collaboration with local community groups, artists, activists, and neighbors, NPR will support a platform to share a transgressive media practice .Neighborhood Public Radio has created several Portable Radio Instruments (PRIs) and is using them for broadcasts across the country for this Whitney Biennial event, called "AMERICAN LIFE." Multimedia artist and UCSD faculty Michael Trigilio is a co-founder of Neighborhood Public Radio and will be the principle organizer for the AMERICAN LIFE broadcasts in San Diego. To contact Michael, email npr@neighborhoodpublicradio.org
Check out pics from previous broadcasts on our blog!

ABOUT NEIGHBORHOOD PUBLIC RADIO:
Neighborhood Public Radio is an independent, artist-run radio project committed to providing an alternative media platform for artists, activists, musicians, and community members. Our motto: If it's in the neighborhood and it makes noise .. we hope to put it on the air.
Neighborhood Public Radio has been named "Best Super Local Radio Station" by San Francisco magazine and we have been featured in Punk Planet magazine, Artforum, and the Chicago Reader. As a traveling band of guerilla broadcasters, folks from NPR have hosted thematic broadcasts far and wide, including both Artist's Television Access and Southern Exposure Gallery in San Francisco's Mission District, Chicago's Version 5 Festival, and a trip to collaborate with the neighborly media folks of kuda.org in Novi Sad, Serbia.
In 2006/07 NPR was the recipient of a Creative Work Fund Grant which was used for a collaborative series of projects collectively titled Radio Cartography. The various experimental radio projects included Monthly Broadcasts, State of Mind Stations, Talking Homes, and Alternate Soundtrack Audio Tours. Radio Cartography was done in partnership with Southern Exposure gallery. In 2008 NPR was included in the Whitney Museum's Biennial exhibition in New York City. Recently, in 2010, NPR was featured in the Project 20 exhibition at the Contemporary Museum in Baltimore.
READ:
San Francisco Chronicle article about NPR, 12/29/07
About us - from the Whitney Museum of Art
LISTEN:
Story about NPR on KALW in San Francisco (the other NPR)