Based on the repurposing of FM transmitters designed and marketed for use in the real estate industry, 'Talking Homes' will present a series of strategies for community-based transmission arts projects including an audience participation 'reality game' and a series of 'drive through audio collage' scenarios through a series of site-specific transmitter clusters. These radio experiments explore and employ a series of predominantly offline media-based social networking strategies designed aorund both centralized and decentralized frameworks for broadcasting. Each project is created and organized through a series of direct negotiations between (jon) and community members chosen according to each project's concepts - location, vocation, and either willingness or interest in a specific topic.



left to right - an image from BAD NEIGHBORS @ 96.9 FM, and the project map from LAKE MERRITT LOOPS @ 87.9 FM
...

From November 2006 through April 2007, 'Bringing Down The Neighborhood' - aka 'Bad Neighbors' - presented a series of personal narratives and performances which addressed and explored issues of deviance, non-conformity, property values, coexistence and cohabitation, and micro-cultural norms in a manner that was part reality game show, part site-specific media intervention, and part audio tour. With transmitter sites in both SF and Oakland, listeners and visitors had a chance to experience the street level experience of a neighborhood and also quietly listen in on some anonymous activities designed literally to 'bring down the neighborhood', even if the stories or confessions were at the very least only a psychic drag for their neighbors, at worst being bad performance art, and at best getting deemed a rude and outright disgrace to anyone in the vicinity with any decency or self-control.

From April 2007 to July 2007, 'Lake Marritt Loops' presented a kind-of 'drive through audio collage' around Oakland's Lake Merritt in which quiet field recordings were looped and broadcast continually for two months such that visitors and listeners could hear - via their car or portable radios - the quiet sounds of early morning wildlife and foliage throughout each day regardless of the usual noise pollution. A kind of communing with nature - using one's radio! 'Lake Merritt Loops' was based entirely on a series of successful cold-calls throughout the neighborhoods surrounding Lake Merritt in which participants agreed to host a transmitter with their favorite wildlife sounds for the duration of the public presentation.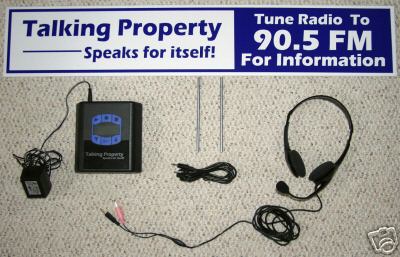 an example of a 'talking property' transmitter bundle with headset, microphone, power supply, and typical sign to alert people to 'tune in' for info about a property, ... i'll be doing the project as a way of pointing to all of the activities surrounding or typically contained or structured by houses, architecture, objects, and infrastructures, 20 or so transmitter units will be positioned along specific routes to be experienced by slow moving listeners with an FM radio

...

coming soon ... the
BAD NEIGHBOR BOX SET
(audio cd with photo booklet from talking homes phase 1)



image courtesy of pete kuzov (participant in 'bringing down the neighborhood' aka 'the bad neighbors piece')

The first portion or phase of the TH project was called 'Bringing Down the Neighborhood' and was designed as a 'reality-based radio game' in which listeners listened in and voted for their favorite 'WORST NEIGHBOR' story or alternately tried to guess the exact location of the transmitters. There were 'worst neighbor' stories (from both the giving and receiving ends of worst neighbor-dom!) broadcast continually from 14 different transmitters in select SF and East Bay sites.

It was a very offline and analog version of contemporary web communities in many respects, and the project was brought to life to try to accomplish a number of objectives: 1. to place radio equipment in the hands and homes of people otherwise unfamiliar with the medium or its possibilities, 2. as a way to involve a good number of people outside the normal art-fan circle in producing short radio pieces for broadcast within a public art / community art activity, and additionally 3. to get people out of their houses and out into the world moving around and trying to tune in and find very localized and site-speicific stories otherwise unknown to us / them.

All of the transmitters were tuned to 96.9 FM and the map and other info was / is also available from Southern Exposure or Neighborhood Public Radio just in case the map below was corrupted by dirty downloading.


...

Overview of TALKING HOMES projects as realized thus far in Oakland, San Francisco, Detroit, and New York City ...

In the SF Bay Area, the 'Talking Homes' project was presented as part of Neighborhood Public Radio's 'Radio Cartography' series done in collaboration with Southern Exposure as a portion of their year of offsite programming. 'Radio Cartography' is generously supported by the Creative Work Fund. 'Talking Homes' will, in this area, be released in two stages and under the project names 'Bringing Down the Neighborhood' (aka Bad Neighbors) and 'Lake Merritt Loops'. Utilizing hyper-local radio transmitters with continually looping stories or field recordings, 'Talking Homes' was designed to explore and address very different aspects of communities, be they geographic, temporary, or fully decentralized although based on shared interests. The entire project was / is based on the deliberate repurposing of tools for commerce for the purpose of community engagement, exploration within the medium of radio and public space, strategies for site-specific projects and works, as well as various means of networking and organizing acts of radio among and by members of the general public.

In Detroit, the 'talking homes' project was titled 'PIONEERS' and was set up as a driving tour of downtown Detroit and nearby suburbs. 'Pioneers' was designed to highlight stories of cottage industry and stories of adaptation and survival, as well as feature locals' thoughts on becoming pioneers just by remaining in a place so frequently abandoned. It was designed to fuse car culture, canvassing, storytelling, negotiation, radio production mini-tutorials, local reportage, and public education / exposure / workshops / etc about some of the possibilities for radio transmitters, whether aimed at artistic or organizational endeavors. The public presentation of the project conincides with two installations within both the Museum of Contemporary Art Detroit and Cranbrook Art Museum during the "Shrinking Cities" exhibitions of early 2007.

In New York during late 2006, the 'Talking Homes' project was stripped down to a very reductivist and bare-bones experience - a single transmitter with a 100 second loop continually broadcasting at 100 FM around the corner of Lexington and 100th. This highly experimental portion, relative to the design of the overall 'Talking Homes' project, was designed as singular and very interpretable response to the site and an attempt to fuse doom and drone music with a pedestrian study of urban infill (gentrification as a problematic alternative to urban sprawl) and the nature of Lexington Avenue seeming much like an episodic superhighway towards downtown. Specifically, there is a looping soundpiece created in efforts to radically affect / complement / conflict with one's perception and consideration of the neighborhood site in the context of transience and mobility.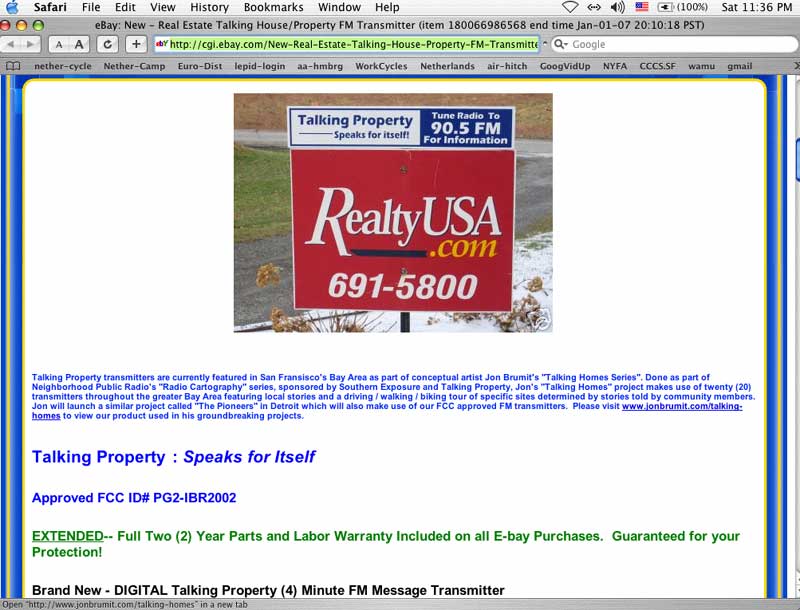 THANKS KEVIN (from the 'Talking Property' group)!! Kevin has been very helpful and supportive through every stage of my process, as evidenced in the ebay listing (above) with a plug for 'talking homes' ... welcome to the meta-plug page! a plug for a plug for a plug! click on the image to find out more about the talking property units for sale on ebay!
...
"PIONEERS", a commisioned piece for the 'Shrinking Cities' exhibition, co-hosted by MOCAD and CAM, is a radio-based driving tour of Detroit featuring 12 mini-programs continually broadcast at 107.9 FM from short-range transmitters in 12 different locations .... please continue reading, download the map and tour info, and by all means .. TAKE THE TOUR! ... and listen in to the histories, goals, hopes, strategies, audio clips, or musings of folks committed to their neighborhoods, their communities, their city, and their craft!

(( SELECT PIONEERS AUDIO CLIPS - tastysoil - new york designer upholstery & trim - gruchala - mckinney - jack pine - and stay tuned for the box set! ))



a transmitter installed high in one of the participants' homes (left), and the intended reciever (right) for the tour .. your car radio!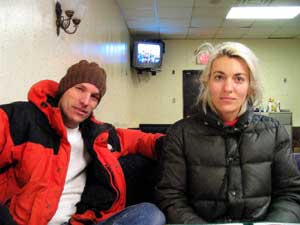 the blakes (left), and christopher majors of new york desighner upholstery and trim (right)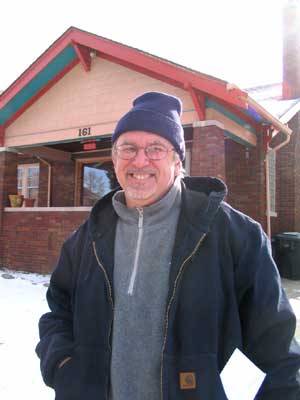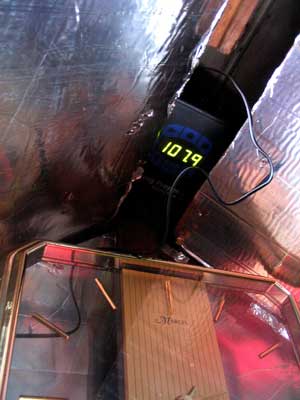 john gruchala, urban farmer and community activist (left), and the transmitter with the 'jack pine / figure 8 racing' program (right)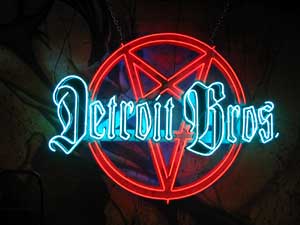 a hand-painted produce sign (left) and the detroit bros sign (right)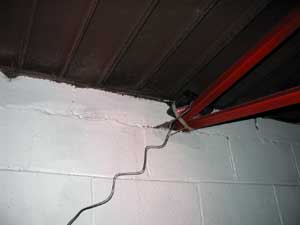 john george of the motor city blight busters (left), and another one of the installed tour transmitters (right)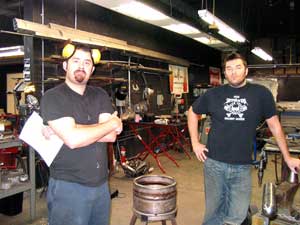 a few of the tasty soil mascots (left), and james and dave of detroit bros (right)



chris pottinger of tastysoil.com and cotton museum



gayelynn mckinney, incredible drummer and percussionist (left), and the storefront for the greening of detroit (right)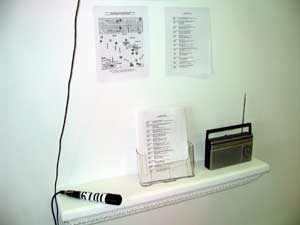 the new york desighner upholstery & trim headquarters on mcnichols (left), and the installation at mocad for shrinking cities exhibit (right)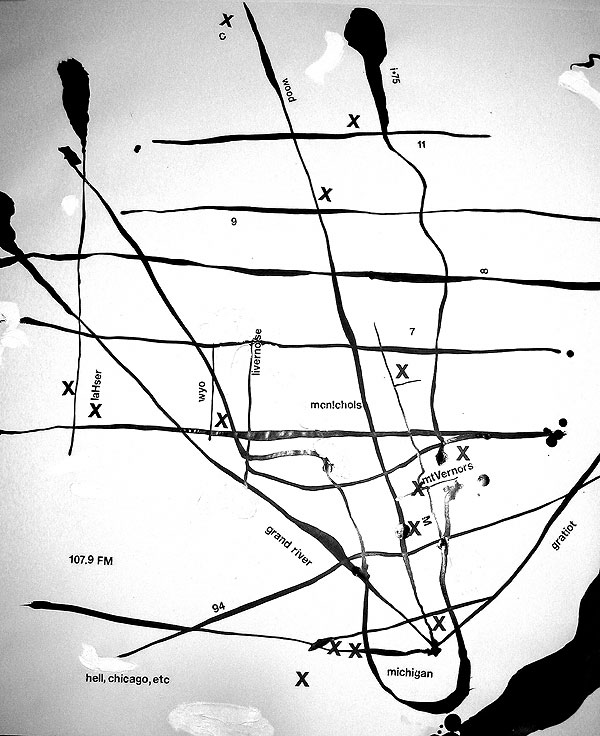 one of my hand-made project maps, X marks the spot for the transmitters around town

.....

the series of 12 short programs for continual broadcast were collaboratively produced with 12 different folks from 12 different sites to try to provide a glimpse into a few of the D's industrious hearts and minds! DIY tourism? multi-part documentary? sonic group portrait? public intervention? radio art? go listen and decide for yourself!
here's a map and tour info ... what are you waiting for!? please check back for tour info updates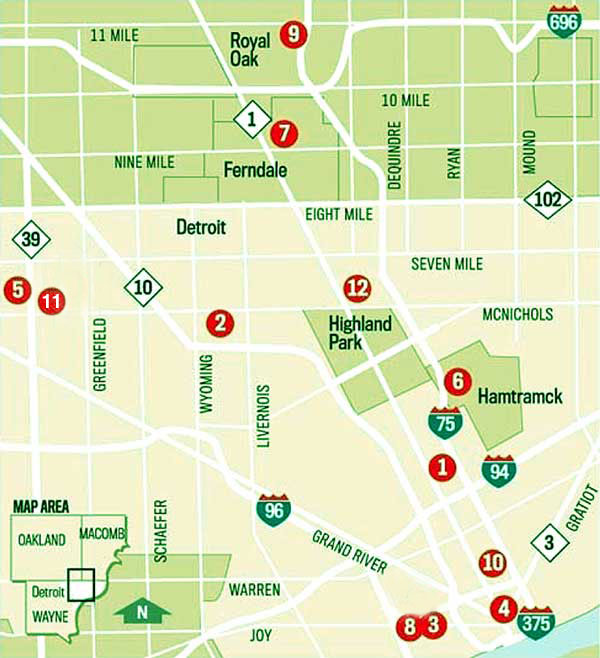 detroit!

'PIONEERS'
107.9 FM

radio based driving tour .... 12 part multi-site documentary
tune your radios to 107.9 fm
each transmitter has a 400 foot range

please be respectful of the tour participants!
watch for pedestrians!
be careful driving and pay attention!
if you get lost or deviate from the tour .... enjoy yourself!!

1.

gayelynn mckinney - www.gayelynnmckinney.com
program - a woman drummer's experience / straight ahead / drum solos
location - mt vernon @ john r, detroit

2.

christopher majors - new york designer upholstery & trim headquarters & www.nydcycles.com
program - thinking large / starting small / custom car upholstery / more!
location - new york designer upholstery & trim
8450 w mcnichols
across from mary grove college, detroit

3.

joel peterson - www.myspace.com/bohemiannationalhome
program - artist run spaces / show preparations / performance gallery
location - bohemian national home
3009 tillman, off michigan ave, detroit

4.

lauren rossi & derek reitzel - www.cartooncreaper.deviantart.com
program - tattoos / inks / friends / machine art
location - 230 grand river, above coach's corner
between centre and broadway, detroit

5.

john george - www.blightbusters.org
program - blight busters / community based networks
location - blight busters community center
17405 lahser, between 6 & 7 mile, detroit

6.

chris pottinger - www.tastysoil.com
program - original sound piece for broadcast / sound artist
location - 11503 st aubin @ casmere
close to the service drive @ I-75, hamtramck

7.

detroit brothers - www.detroitbros.com
program - ghetto future / custom motorcycles / aesthetics
location - 23510 woodward ave
n of 9 mile, across from wetmore's, ferndale

8.

ashley atkinson - www.greeningofdetroit.org & www.detroitagriculture.org
program - community movement / sustainable open space programming
location - 1418 michigan ave
1/2 block from old tiger stadium, detroit

9.

jack pine - www.slanny.org
program - figure 8 races / muscle cars & parts / hemi
location - 2101 e 11 mile @ edgeworth,
close to I-75, royal oak

10.

matt and hazel blake -
program - hexane / house party / home tour /
location - 1015 vinewood @ lafayette,
just north of the yorba, detroit

11.

chazz miller - www.publicartworkz.tripod.com - email chazz and get involved - creativeefx@yahoo.com
program - public art workz / detroit mural project / get involved!
location - 17340 Lahser
just south of the old redford theater

12.

john gruchala - email him to get involved! jsgbase@aol.com
program - community efforts / activism / urban farmer
location - 17500 john r @ east parkhurst




the install setup ..... looping custom 'mocad' soundtrack with voice-over capability via live mic through xmitter (above) broadcasting to the parking lot and also the radio on shelf adjacent to the tour maps .... museum visitors at mocad and cranbrook both experience this live mic xmitter setup with maps

.....




call me for a special driving tour of the broadcast sites around town! or come out to MOCAD for my talk on Feb 4 ...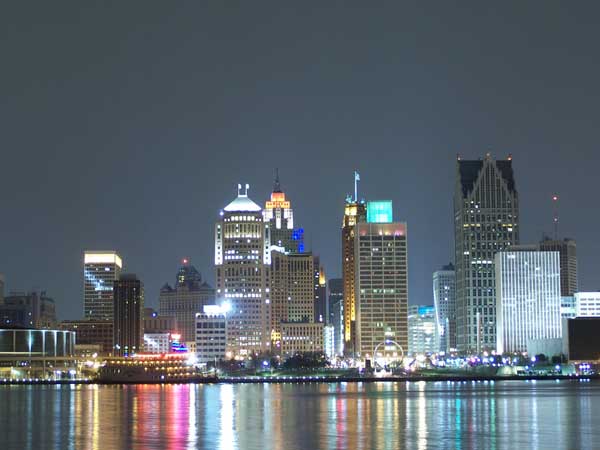 glam, and garbage .... 'talking homes' will explore things in between

There's never much middle ground in the portrayal of the city ... which Detroit have you visited? The glamorous one? Or the one filled with garbage? Or maybe the less-familiar residential areas within the city? Or perhaps the re-greening urban wilderness!?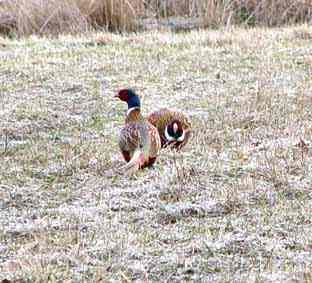 left - a map of the re-greening of Detroit and right - a wild pheasant! 'talking homes' will explore these areas as well as the lives and neighborhoods in between, specifically focusing on cottage industry and various histories and hopes of Detroit's new pioneers
...

BLAH!! following is the general writing on the project !!! was part of my initial proposal package for the detroit project ....

'Talking Homes' Overview:
Proposed as an offsite portion of the upcoming 'Shrinking Cities' exhibition opening February 2007 in the Detroit Contemporary Museum, 'Talking Homes' is a site-specific public audio tour of select areas of downtown Detroit featuring personal stories, historical anecdotes, field recordings, and special messages by local inhabitants and business owners specifically designed for audio tour visitors and listeners. The project will explore and address community-specific and Detroit-specific concerns and interests and broadcast short looping audio segments, produced in collaboration with local individuals and communities, using legal FCC approved low-power FM transmitters.
Goals:

1. To create and exhibit a hybrid and dynamic socio-cultural instrument based on personal reportage from within an economically depressed community designed to to instigate discussion among a variety of listener types and challenge their presumptions and perceptions of what they see before them while engaged with the 'audio tour'
2. To work with local inhabitants, workers, and others to collaboratively build an experimental public radio archive of local events and phenomena to be experienced only in direct relationship to specific geographies or sites
3. To boost tourism within an economically depressed area, to challenge our ideas and notions of tourism, and to explore the relationship of tourism to manufacturing in terms of the changing economic structures within the US as represented by urban Detroit
4. To get people physically moving around the lesser known partially- to very- abandoned residential areas through a designed intervention wherein community members become an integral part of an art experience otherwise isolated within a 'cultural institution'
5. To implement a designed counter-proposal or hyper-local media alternative to global media and marketing, internet radio, internet streaming, and video or audio blogging which, although proven to be capable of building communities based on shared interests and motivations, end up having very little relationship with sites of reportage or the 'real' communities represented within new 'virtual' community forums
Implementation:

Small range transmitters with looping messages will be placed in specific sites - pending discussions and negotiations between the artist and homeowners, business owners, their friends, relatives, etc - and will operate continuously after installation and made accessible and available for public listening through maps and other related publications including the broadcast frequency and suggested routes. All transmitter units will be tuned to the same available frequency so that when passing from site to site the sounds will fade into and out of each other require no adjustment of controls or tuning of one's radio. The transmission units, which are FCC approved and licensed and require no special permits, registration, or operation fees, are fully tunable so as to take advantage of unused or available frequencies depending on their location.

...
My main goal for the project is to encourage people living and working in Detroit, visitors to the 'Shrinking Cities' exhibition, and other visitors from outside of the area to visit and spend a little time in downtown Detroit driving or riding around listening to a series of hyper-local radio broadcasts, exploring the stories behind the scenery before them. My hope is that people will participate in this unique public radio-art experience and ultimately become more familiar with the city's current conditions, its inhabitants, its workers, and some of their thoughts and opinions on their environment, local or national politics, popular culture, or simply the day's failures or successes.
Placing listeners in a position to clearly identify the things they see before them and to seek relationships between these visuals and the corresponding audio for each site, I would further hope participants and visitors would leave the audio tours relating to and recognizing the stories and sounds they heard, the sights they saw, and although recognizing and reflecting on the vitality of the city's inhabitants, workers, and wildlife, be left with the need to ponder the disconnects and question the relationships between aural and visual information, activities and sites, histories and futures, absence and presence.
A vacant lot might sound like a conversation between an older woman and a little girl reporting her newest dream, burned cars could sound like a family of wild pheasants building a nest, or a thriving business might sound like a train wreck from 1944 mixed with sounds of the owner chasing outside after someone forgetting their snacks.

My secondary goal is to have the audio tour considered as a dynamic hybrid instrument, one that fuses personal conversations and negotiations, storytelling, experimental radio, creative resistance, tactical media, sales and customarily autonomous car-culture in an effort to explore and reflect on relationships, commerce, community activities, and the blending of public and private spaces within a city charged with historical tensions, unprecedented population loss, and a steadily diminishing infrastructure. By capturing stories and sounds of people and things persisting in such a place, and transforming them into endlessly looping and floating radio waves, the city itself becomes a medium, a transmitter, a receiver. And through a series of very personal negotiations to use private property for public broadcasts, the transmitters become emblematic of a type of utopian vision wherein people, technology, communication, mobility, and empowerment - if only by way of showing up to take interest in others - are all necessary components for both survival and prosperity.

....

.......... alternate Overview (excerpted from letters to a very friendly 'Talking Property' transmitter rep) ..........

Apart from the fact that I'll be using a kind of 'sales device' for a free community-based experience for the public at large (as long as they can get access to a radio), the general scenario for my project is three-fold: 1. get people to tell me stories about their lives at home, events of note in their neighborhood, or special offers for or requests of the audio tour visitors and passersby 2. negotiate with renters, homeowners, landowners and such to let me place the talking house transmitters in their homes / yards / shops / garages / etc so that passersby can tune in and get a small glimpse of the life behind the architecture / infrastructure or newly 'green' space in front of them during the tour and 3. set up walking / biking / driving audio tours via hyper-local radio of an entire neighborhood or region so that with all of the transmitters tuned to the same frequency one could experience a kind of 'drive through audio collage' where one story fades into the next and into the next as well.

The project serves as a kind of utopian alternative to industrial tourism to be held in comparison or dialog with the concurrent decline in manufacturing and rise in industrial tourism within the US. Additionally, with regards to the growing popularity and significance of the global 'biennial' circuits and their impact on or relationship to communities consciously or inadvertently hosting such events, the 'Talking Homes' project offers a type of 'site-specific' or 'site-based' project designed specifically to be in dialog not only with the surrounding community of an art institution but also with other 'site-specific' and 'site-based' projects done by a new breed of international artists whose studio is newly situated in the middle of industrial tourism and within the confines of negotiating largely with institutions and corporations.
The 'Talking Homes' project for Detroit will inevitably address the steady population loss, community collapse, and decline in manufacturing occuring in Detroit since the late 60's/ early 70's. By situating the 'audio tour / drive-through sound collage' scenario in some of the most abandoned and neglected neighborhoods there, hopefully to include neighborhoods with the growing populations of wild pheasants and such, audio tour visitors and listeners will be confronted with a very clear cut example, although seemingly or visually without origin, of the possible repercussioins of a single-industry economy, industrial monoculture, bad civic planning, or the inevitable collapse of an industry necessitating and requiring the use and availability of non-renewable fossil fuels. Even though there are so few houses in some areas there, there is still electricity or sunlight to power the units.

....
pioneers samples - tastysoil - new york designer upholstery & trim - gruchala

...

STAY TUNED FOR MORE ( NEIGHBORHOOD PUBLIC RADIO . ORG ) PROJECTS IN NYC - SPRING OF 2008!